A Summer Comet...
A moderately bright comet will enter the evening sky in the latter part of July. Comet LINEAR is expected to reach a maximum brightness of about magnitude 5.5 around July 23rd. Unfortunately the comet is unlikely to be visible to the unaided eye. Binoculars or a telescope will be required.

Star gazers with a good pair of binoculars will be able to follow the path of Comet LINEAR (official designation C/1999 S4) with the help of this month's sky map. Look for it between the legs of the Great Bear (Ursa Major) between July 22-26. (Note, comet position is plotted for 0 hours UT on each date. Adjust for local time.)

In binoculars Comet LINEAR is expected to appear like a fuzzy object with a bright center. A short tail may be visible in binoculars or small telescopes when the comet is observed from a dark-sky location. Happy comet hunting!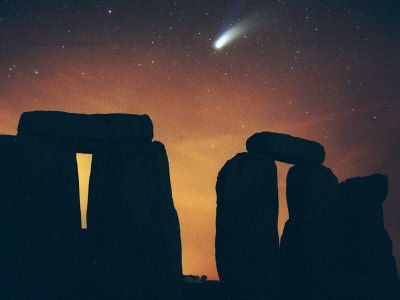 Click Here for Information or to Buy this Print

And a Total Lunar Eclipse
An unusually long total eclipse of the Moon will occur on July 16th. On this night the shadow of the Earth will gradually sweep across the face of the Full Moon. The eclipse starts at 11:57 UT when the Moon enters the darkest part of the Earth's shadow (umbra). There will be a darkening of the Moon on one side that will slowly sweep across its face over the next hour until 13:02 UT when the Moon will lie completely within the Earth's shadow.

Totality will last 1 hour and 47 minutes with mid-eclipse at 13:56 UT. This is the longest total lunar eclipse since August 13 1859 and will not be surpassed for duration until sometime after the year 3000! During totality the Moon will glow with a distinct red color that is due to sunlight being refracted into the Earth's shadow by its own atmosphere. The eclipse ends at 15:54 UT.

The best places to view the lunar eclipse will be Hawaii, the Pacific Ocean, the Far East, and Australia. Observers on the West Coast of the United States may catch a glimpse of eclipse in the pre-dawn hours on Sunday July 16th. Look low in the southwest to see the partially eclipsed Moon before it sinks into the horizon in a quickly brightening sky. Clear skies until next month!


Related Links:
Related Books: